Raise your hand if this sounds like you: You've been wanting to start your own website or blog for some time now, but don't have any idea where to begin. The thought of dealing with domains, hosting (what the heck is that?), and anything ultra-technical just overwhelms you.
You're not alone! While the initial setup process can seem a little daunting, we're here to help and guide you through every step. Think of us as your new website BFF. On this page you'll learn all about WordPress, web hosting, domains, and everything else you need to know about starting your own website. You can do this, girlfriend! Let's get started.
First, What is WordPress & Why Should I Use it?
WordPress is a content management system that powers over 40% of the entire internet. WordPress allows you to effortlessly manage your blog posts, images, videos, pages, menus, and every other aspect of your site, all from a central, easy-to-use dashboard.
WordPress is popular because you can do just about anything with it. With WordPress, you can create everything from a simple blog to a complex multi-page website. WordPress provides limitless design flexibility, full control/ownership of your website, access to plugins that can greatly extend the functionality of your site, and lots of other useful features. Learn more on WordPress.org.
WordPress.org vs WordPress.com
If you're new to WordPress, you may not know that there are actually two versions of WordPress. This can be really confusing!
WordPress.org is also known as "self-hosted" WordPress, which means that you'll need to sign up for web hosting with a hosting provider. 99% of the time when anyone talks about WordPress, they are talking about WordPress.org.
WordPress.com is a free, limited hosted service owned by Automattic. WordPress.com places a lot of restrictions on users and doesn't allow for things like themes and plugins, which are some of the best parts of WordPress! Our themes are designed exclusively for WordPress.org and will not work on WordPress.com, even if you have a paid account.
Step One: Domain & Hosting
What is a domain?
A domain is your website's URL (i.e. 17thavenuedesigns.com). Think of a domain like the license plate on your car. With it, you can be located on the web.
What is a domain registrar?
A domain registrar is like the DMV of the web. A registrar will give you a "license" to use your domain for a certain period of time (one, two, or more years).
What is hosting, and what is a hosting provider?
Once you have a domain name, you need a place to park it on the web. Think of your hosting provider as your website's "garage." This is where your domain will be hosted and your website's files stored.
Most hosting providers also let you purchase domains right through them – so you can register your domain and get hosting at the same time, like we'll show you below. So easy!
Register a domain & sign up for hosting
Your first step is to find a reliable company that you would like to host your website. We love and recommend SiteGround. We've worked with lots of web hosts and SiteGround is the best of the best — great support, affordable prices, and their servers are FAST (so your website will be too!). Fun fact: all of our theme demos use SiteGround!
1. Visit SiteGround.com.
2. SiteGround offers a few different WordPress hosting plans. If you're just starting out, the StartUp plan is plenty (and you can always upgrade later!). Click Get Plan.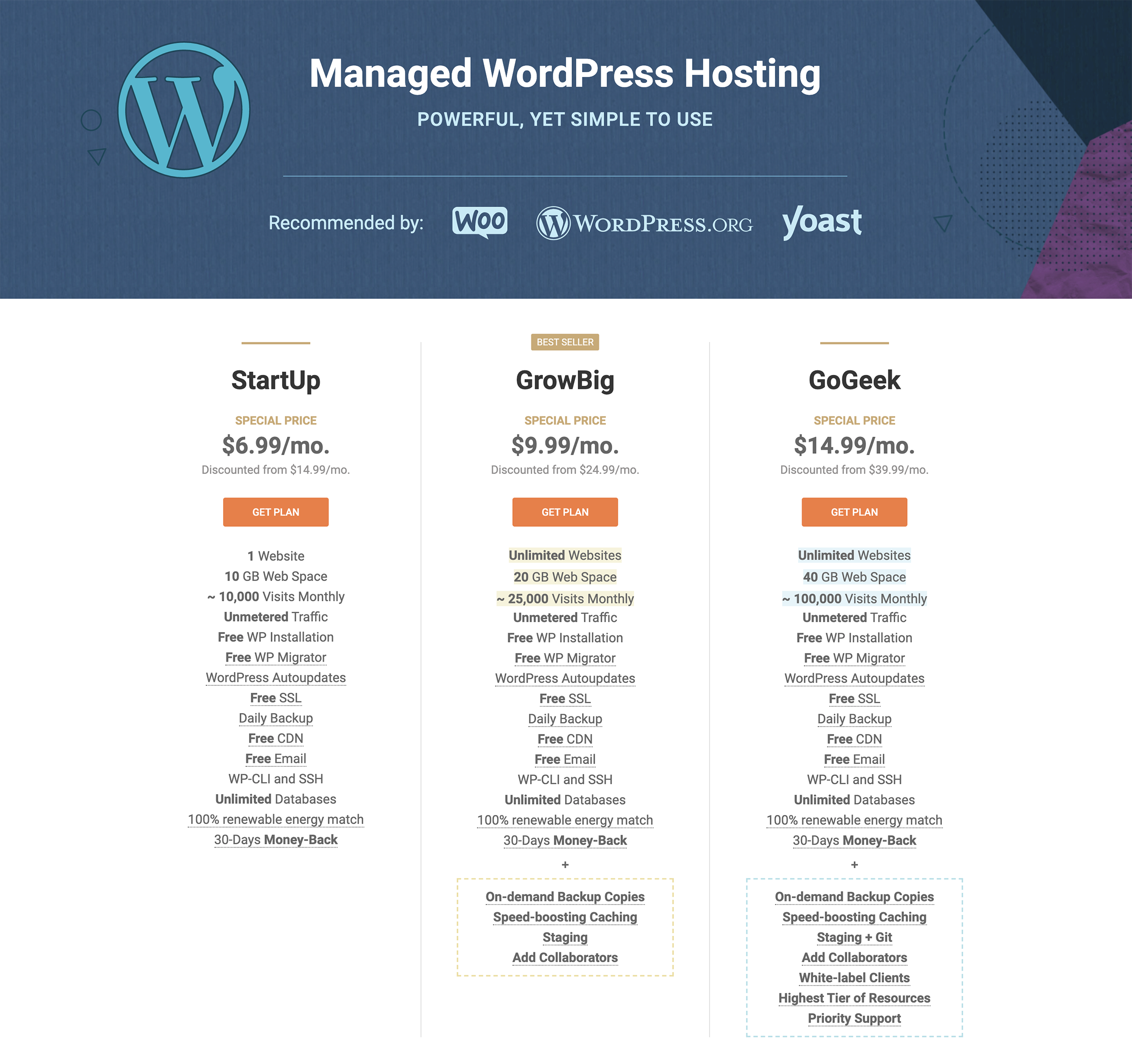 3. On the next page, type in the domain name you would like to use and choose a domain extension. We recommend a .com domain extension since it is the most common and recognizable, but .net will work in a pinch if your chosen domain isn't available for .com!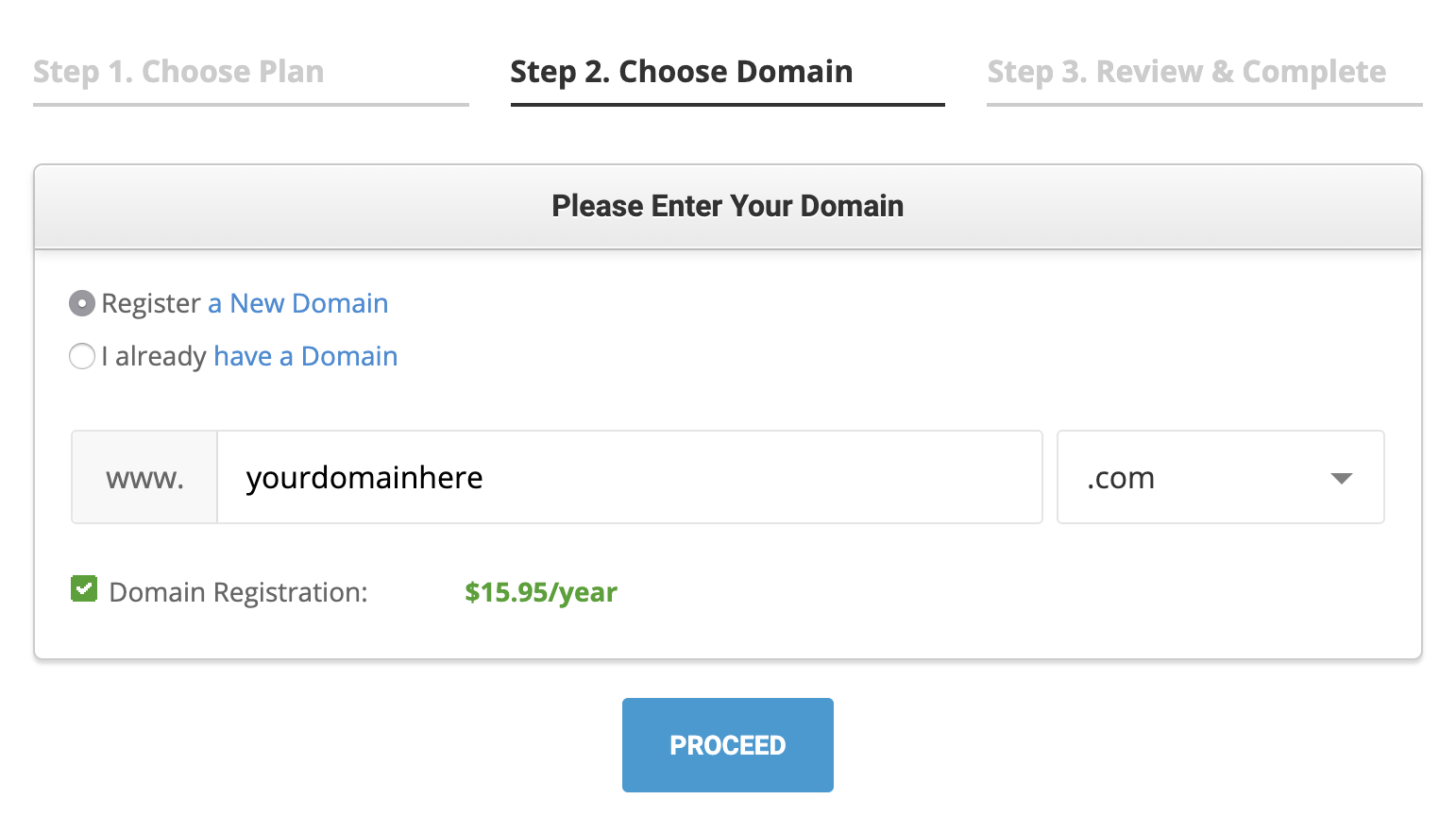 If you have a domain that you registered elsewhere, you can select "I already have a domain" and type in your existing domain.
4. SiteGround will check to make sure the domain name you've chosen is available. If it is, you'll move on to the account information page. Enter your account details and payment information.
Toward the bottom of the page, under "Extra Services" — we HIGHLY recommend Domain Privacy. Without Domain Privacy, your contact information (including mailing address) will be publicly available online.
5. Once you have completed the signup process, you'll see a confirmation page: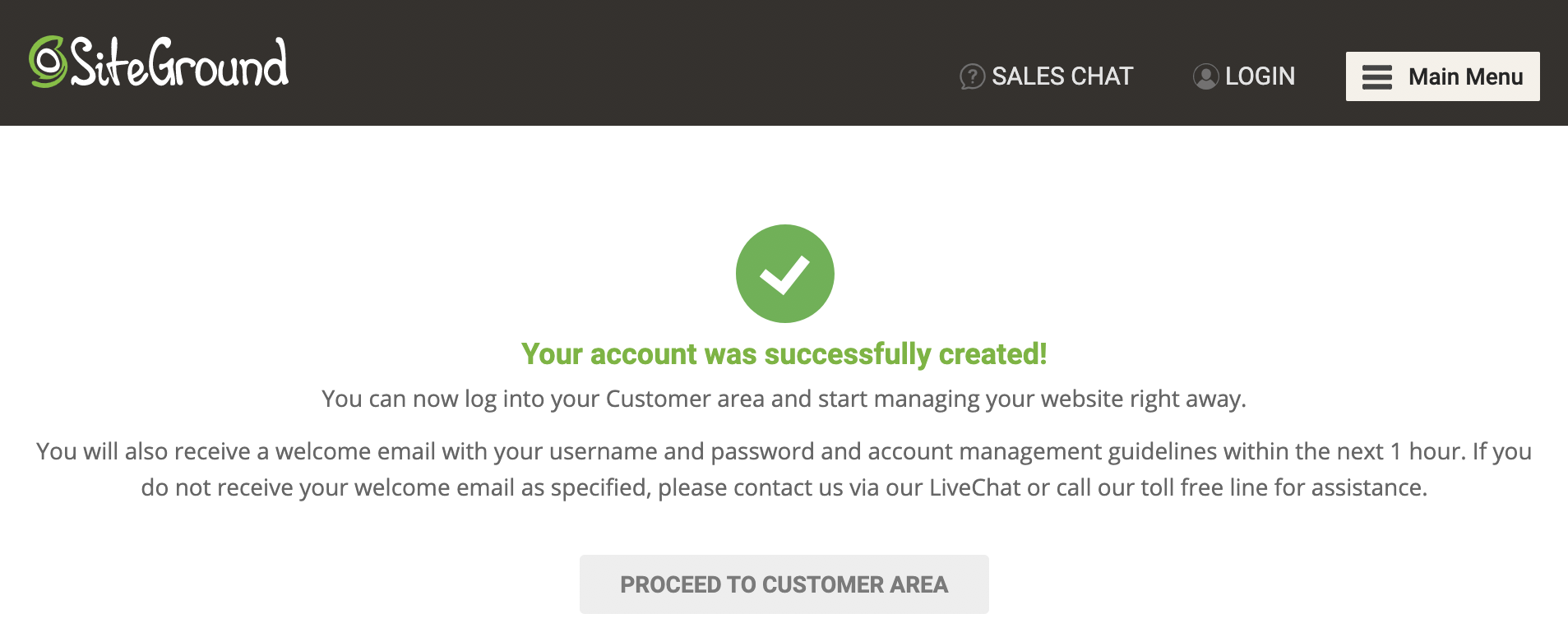 6. Click Proceed to Customer Area and log into your SiteGround account.
7. Before you can begin using your website, go to your email and verify your domain.
Step Two: Set Up WordPress
Now that you have a domain and you've signed up for hosting, it's time to set up your website! SiteGround makes this very simple.
1. After logging into SiteGround, click on the Websites tab at the top of the page.
2. You should see a page that looks like this:

3. Click Select under "Start New Website."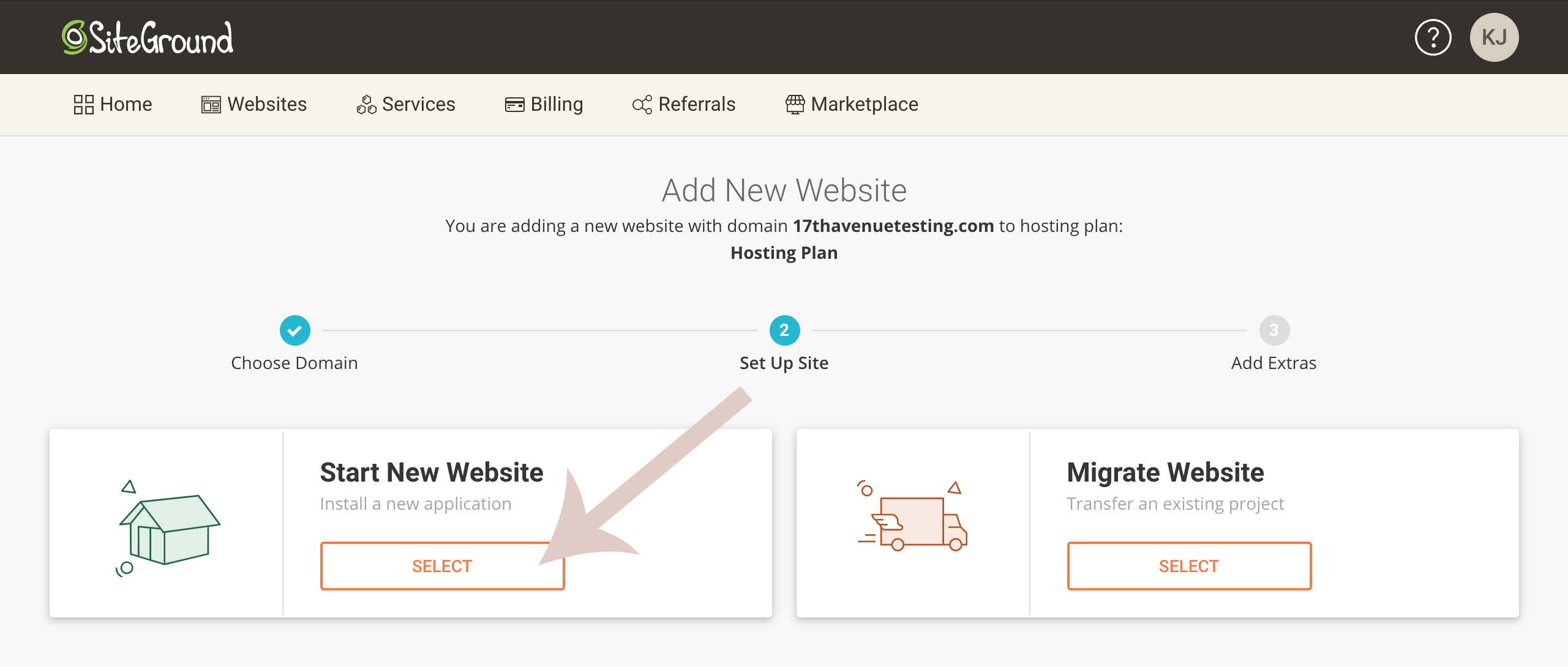 4. Click Select under "WordPress."
5. Add your email address and password, which will be the login information you'll use to log into your WordPress dashboard. Click Continue.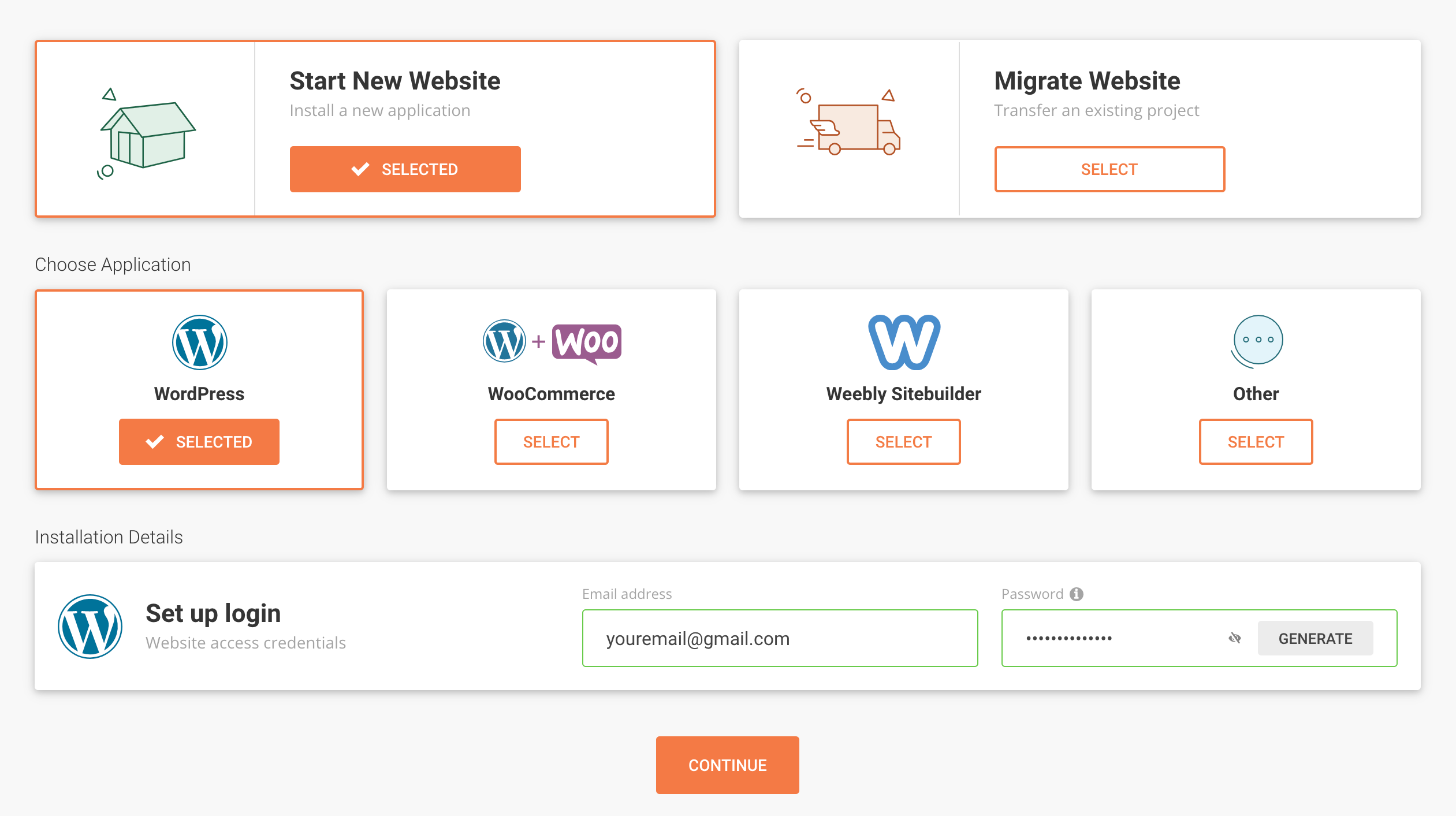 6. On the last page, click Finish to complete the setup process. You're all set! WordPress is now installed on your domain.
How to log into WordPress
There are two ways to log into your WordPress dashboard.
1. Direct method (fastest). Visit your domain + /wp-admin. For example, mywebsitename.com/wp-admin. That will bring you to the WordPress dashboard login page where you can log into your website.
2. SiteGround method. Log into SiteGround and click on the Websites tab. Click on Site Tools. Go to WordPress > Install & Manage. Under Actions, click the icon that looks like an arrow through a door. That will automatically log you into your WordPress dashboard.
Step Three: Choose a Theme
Here's the fun part! It's time to choose a theme that fits your brand and style.
Our collection of WordPress Themes are designed to elevate your website, draw in your audience, and beautifully accentuate your content. Each theme was handcrafted with an emphasis on responsive design, gorgeous designer details, functional features, and endless flexibility. You'll find a theme for every taste in our shop – ranging from modern and sleek to classic and feminine.
Step Four: Set Up & Launch Your Site!
Once you've purchased your dream WordPress theme, you'll receive an email with a download link. Unzip the file and follow the detailed installation instructions we provide to set up your theme on your website. Trust us when we say "detailed" – we will hold your hand through each and every step!
If you need any help, we are always ready & happy to assist. Be sure to check out our Support Center, where you can find hundreds of WordPress tutorials, troubleshooting articles, and theme documentation. We also offer installation services if you'd like us to take care of setting up your theme on your site.
Once your site looks absolutely perfect, it's launch time, lady! Pop the champagne and celebrate!!
Some of the links on this page are affiliate links. This means that we may receive a commission if you click on the link and decide to purchase. We only recommend companies that we've personally worked with and know and trust.